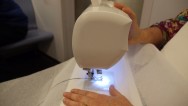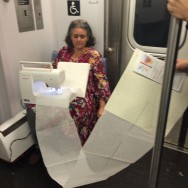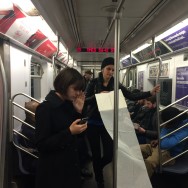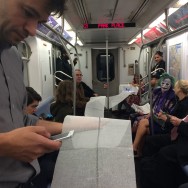 A Book as a Bridge traveling from 129th St 3rd Ave. to Wall Street and back: Nov 11th and 23rd 2015
A performance producing two lines with sewing machine  in an accordion book while traveling on the 2, New York City subway train.
A short documentary video from A Book as A Bridge Performance.
On a uptown bound 2train , on Monday November 23rd, leaving Wall St. Station around 9pm and arriving at 3rd Ave 149th St Station before 10 pm.
On a downtown bound 2 train,  on Wednesday November 11th leaving 3rd Ave.149th St.  at 9:10 pm and arriving at Wall St. Station at 9:55pm.
Traveling from the FinancialDistrict to the Bronx, a sewing machine is placed in the last car, at the rear end of the 2 subway train next to an accordion book whose length when unfolded would equal more or less the length of the last train's car. At departure, I started sewing/tracing the book with an embroidered line and continued producing it while unfolding it up to the arrival. During the journey the passengers were invited to hold the unfolding book and slowly pass it from hand to hand toward the front of the car. At the time of arrival, the whole line-book had stretched through the entire length of the last train's car having grown the distance from its back to its front while growing from Wall St to  149th St. in the Bronx, covering more then 12 miles of distance within its 50 feet of its length, bridging  the physical and virtual distance separating the two places now linked by a sewing machine line traced in a book. The book was then shown at Center for Book Arts.  It is my intention to start a conversation about finding new ways to mend the distance between communities, in this case, linking two sites that symbolize two virtual islands in need of a connection: the Stock Market to the People Market.
All photos are from the November 11th Bronx to Wall St. Performance. Photos by Elaine Tin Nyo.
The Book As A Bridge
materials: thread on tarlatane and paper.