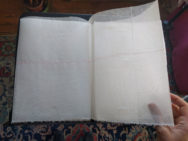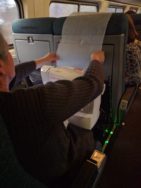 On January 20th, while going to the Women's March on Washington with my two daughters and my friend Marina Cappelletto, a painter and video artist,  I made A Book as a Pink Line while on on the 3:30 NYC-WDC Amtrak train.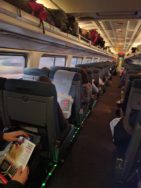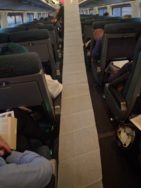 Sitting at the back of one of the train's car with a sewing machine and an accordion book that when unfolded would equal the length of the train's car. I started sewing a pink line on the first accordion book page at departure and kept sewing whenever possible up to arrival while pushing the sewn pages toward our destination. By the time we arrived in Washington, my line on the book had unfolded from the back of the train's car to its head, it also had stretched from New York city to Washington DC.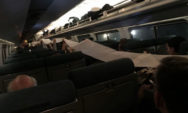 The passengers participated and cheered as they held the book while we were approaching Union Station in DC around 7:00 pm.A pink line was sewn with sewing machine on a 85 foot long accordion book while the train covered 229 miles from NY Penn Station to DC Union Station,representing the many women traveling to their destinations for the march.